Did I tell you that we'll be wearing black & white during our reception. Lantakle labu.. Memang lari dari impian asal aku which Im soooo into red & black, but takpe lah. After pilih baju hari tu, I think that dress fits me well. And I got persetujuan from all the gedixs BFF and they all agreed baju itu menarik tetarik dan mmg d' bomb. Hiks sila angkat bakul sendiri skarang. Bluek.
Akan tetapi, the problem now is En MNI's baju. He (and me jugak) really wants the 3 piece baju.Not the normal baju melayu. And of course we want it to be white paired with black sampin and tanjak (or is it tengkolok weh)! Because my baju sudah sarat hitam putih kannn? We were so ignorant before this tak pernah plak tanya pasal baju pengantin lelaki assuming that they have it all. Aiiyo benda penting macam ni boleh kami tak ingat. And I just called Adi Bridal tadi and guess what? They only have black 3-piece baju melayu. White sik ada deh! Bengang plak aku! Urghhhhhhh.
To get the crystal picture of what Im babbling about, sila tengok gamba ni. Cenggini lah lebih kurang baju lelaki 3-piece putih yang En MNI and aku nak. Baju perempuan bukan macam gamba ni iya. Takkann pulak aku nak tayang baju sanding kat sini kann? Haha!
[caption id="" align="aligncenter" width="369" caption="Taken from Pesona Pengantin"]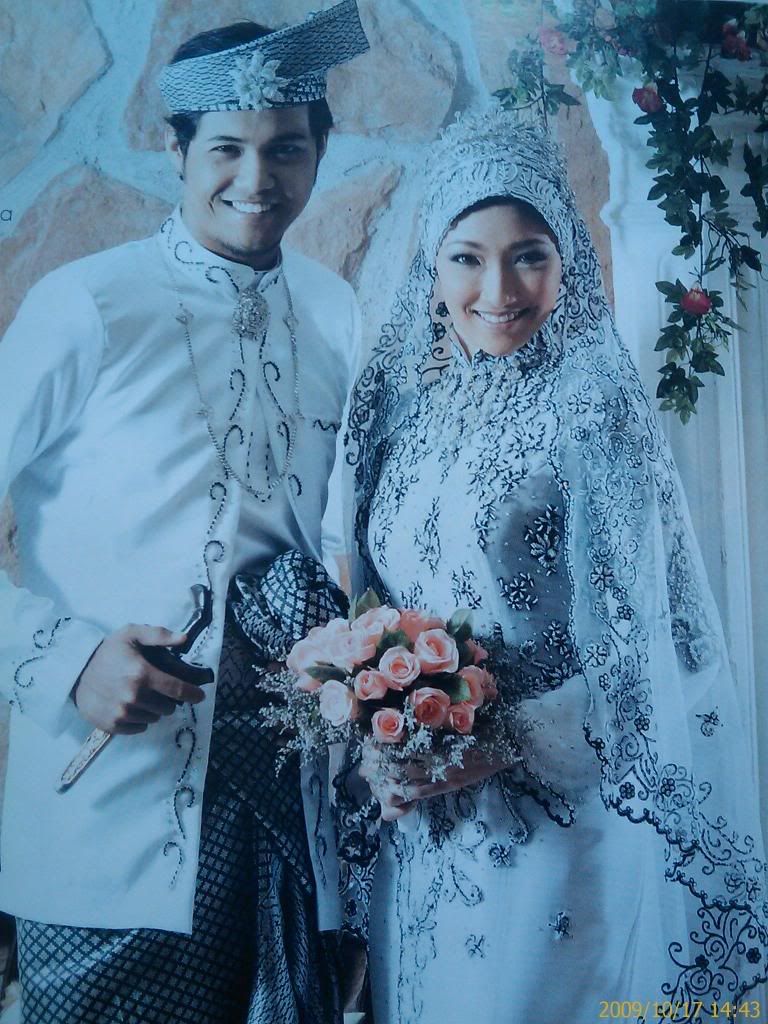 [/caption]
So now, should he go with white normal baju melayu, or black 3-piece baju melayu? Haiiiiihhh. (Aku rasa nak suh Adli Bridal jahit white 3-piece baju melayu just for us.  Sempat kahhh. Susah weh, kami jauh kat seberng laut ni. Tetekan di sini)
Past sentence: Esok E MNI balik Miri. Yeay! Dah 1 week tinggalkan aku oke.