Firstly, yesss..I know it's too early to talk about wedding gifts. But its weekend for God sake and I have ample time to search on the list (which En MNI did actually. Heeh); after we were about to pecah and teburai perut dine in noor's crib dengan memakan ikan bakar + siput panjang-panjang + udang sweet sour + sup sayur + sambal terung tempe +big apple + durian. And after dinner, begelak ketawa tebahak-bahak tengok sehati bedansa minggu pertama yang menari macam kayu atau tiang yang bejalan dan melintak liuk. Hehe. Perut kenyang, ketawa tebahak-bahak.Its a perfect combo ey ;p
Secondly, sila jangan kata kami gila mahukan hadiah perkahwinan. Hehe. It was not our practise dulu to list out what we wish as wedding gifts. But I guess, people now are more open and accept wedding registry as to ease them in finding gifts. And of course to avoid kau dapat 5 sterika dan 8 periuk nasik selepas kawen. Celah mana pulak kan nak masak nasik dalam 8 periuk. Hiks ;D So whatever we list here is just for panduan. Please let us know if you intent bermurah hati nak bagi salah satu daripada barangan ini.
Apa-apa pun, as panduan shj ok. If bukan model atau brand seperti yang tertera pun, kami tidak kisah sama sekali.. Takde masalah pun if yang lain. Seriously no problemo at all.
Even takde hadiah pun, we dont mind at all. The most important thing is your presence utk memeriahkan majlis kami, and of course doa kamu semua agar kami bahagia hingga hujung nyawa :D ( oh tiba-tiba aku tak sabar nak kawen. Hiks)


LG Air Purifier - LG (PS N550WP)




Food steamer - Kenwood (FS 470)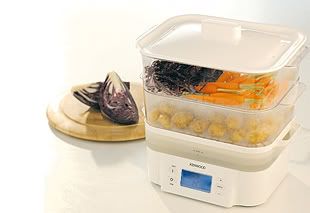 Bagless vacuum cleaner - LG (V KC881HT)





Microwave - LG (MP 94855)





Pressure cooker - Kenwood (W PC06)





Health grill - Kenwood (HG 266)





Cake mixer - Kenwood (KMX50)





Hot water dispenser/ airpot - Kenwood (AP730)





Rice jar - Kenwood (RJ 650)





Slow cooker - Kenwood (P 657)





Tefal cookware - Selective set




Cordless phone - Panasonic



And these are big items which mcm mana pun, kami kena jugak beli apabila memasuki rumah baru. If ada yang bermurah hati nak semadikan sebagai hadiah, we are more than happy to accept. Wink Wink.



Home theather - LG (HT964 TZ)





Fridge - LG (GR C217 LG JW)





Washing machine - LG (WD SR1212AC)