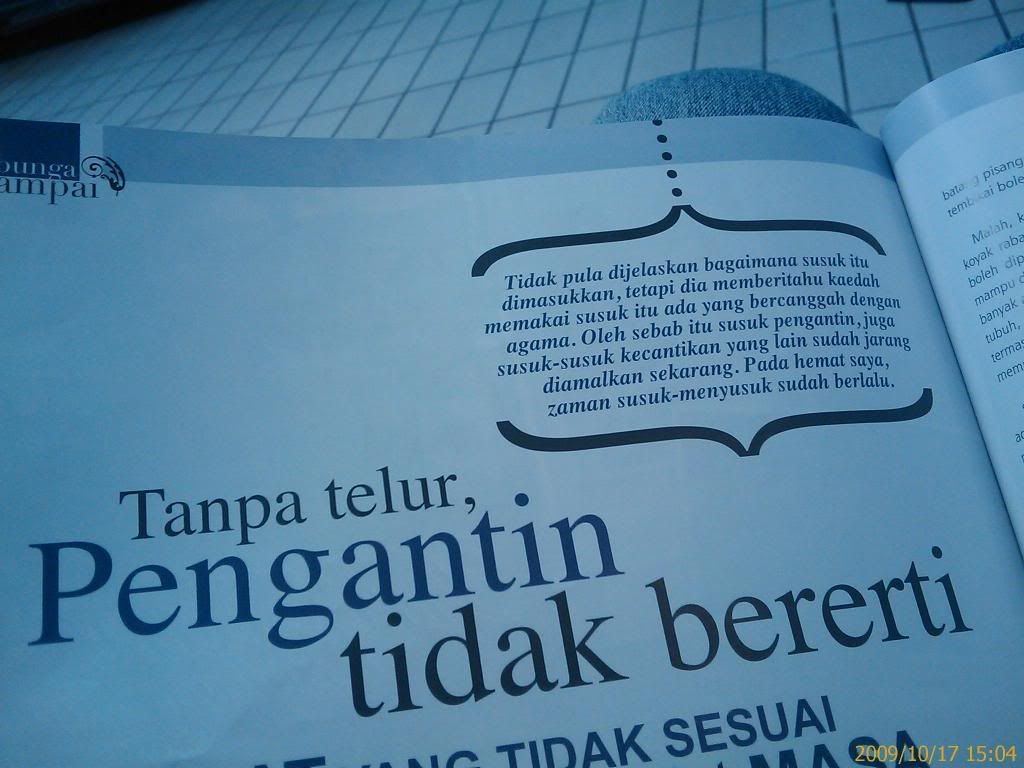 Suspen tak dengan gamabarajah di atas? I read an entry about telur rebus from
here
. Terus my mind diverts to door gifts that will be given to all guests nanti. So the gambar above is about eggs as in door gifts, not something else.
The article says, the current culture no more has eggs as door gifts. People are more confortable to give chocolates, muffins or even candy, right? Memang iya pun, the latest wedding that we attended had kuih makmur as door gift! Sempena raya mungkin (thanks hafidz & ayu J ). But the truth is, telur rebur still play an important role here because kalau bagi telur rebus tu, barulah rasa traditional and the kemeriahan wedding itu! But the concept sama je actually, kau bagi makanan, dan orang sama ada makan atau ditongsampahkan. Adoi la hai.
So, aku tetap berkeras nak telur rebus gak for my wedding. Take it or leave it. I still think telur is a-must-have thing on a wedding day. Katalah apa korang nak kata, aku nak jugak! In the end of the day, still kena ada telur rebus jugak utk letak kat bunga pahar, no? Unless u wanna put ferrero roche lah kan.
And being a johorian, aku berkeras nak telur pindang jugak! Don't have any idea what its all about? Telur pindang ini sangat popular di bahagian selatan Negara, especially Johor lah of course. If you go to Johorian wedding, tak sah kalau tade telur pindang ini. Camni lah rupanya.
Some info about telur pindang :


This special eggs are boiled with variety of herbs and spices. And herba-herba ini akan bertindak sebagai preservatives yang memanjangkan tempoh hayat telur pindang itu. Which means ianya akan lebih tahan lama compared to telur rebus biasa!


Telur ni dimasak dalam air garam for 3 freakin' days. Sakit pinggang jugak lah nak menjaganya. And it needs penjagaan rapi to get the right water level and temperature.


Herbs yang diguna pakai adalah termasuk galangal, ginger, lemon grass, coriander and aniseeds, guava leaves and senduduk (ni suma aku pun tatau apekah dia). The leaves stain the shells a brownish and bluish colour. And  the spices and ingredients used turn the egg white into a light brown colour.  


Camtulah kisahnye. So kami pun tatau lagi mana nak tempah telur pindang ni di Johor Bahru. So to those yang ada info on this, please help us ok.
Tengkiu
Past sentence
: Jumaat ni Sarawak cuti. Hoorey hoorey!