.. gila Hindustan tadi beb. Ngeeehehe. Like whatever u wanna say lah kan. Hari Sabtu ialah hari aku tengok Hindustan. Hoho.
Ok this is a basi entry sebab sudah seminggu cerita berlalu. Got to see the besties last week in Kuching. Sangat best oke! And first time aku tengok org Sarawak punya cara-cara adat tradidi perkahwinan yang (pelik?).Hrmm.


Pengantin bersanding ialah pukul 10 pagi. Bermakna majlis bermula pada pukul 9 pagi. It's like going to a kenduri for a breakfast. Woo how pelik is that ryte. I meant as compared to Semenanjung nya kenduri. And we woke up as early as 630 am to get ready.( Ini En MNI lah punya kerja, ada bangun pukul 630 and bersiap. AKu tengah lena diulit intan lagi kot. Ngeehe). Ohh berkerut-kerut plak membaca nampaknya? The groom telah menyediakan satu rumah khas iaitu rumah neneknya untuk menyumbat kami semua yang seramai lebih dari 20 orang. So just imagine lah bathroom ada 1 and ada 25 org nak mandi. Kuang kuang. Ada yang mandi kambing je pagi itu oke.


Pemain kompang ialah bermain kompang di dalam rumah. Iaitu betul-betul di hadapan pelamin pengantin. So janganlah harap kau nak tayang muka depan pelamin tu. Boleh la kalau nak, pastu pekak sekejap sebab kompang kat telinga kau.


There is no such thing as makan beradap! Diorang ada this adat called makan-hape-ntah. Its when the bride and groom akan berebut amik makanan dan berebut nak suapkan pasangan mereka.Sape yang berjaya sumbat makanan dalam mulut pasangan, maka dia menang! As expected lah, for pasangan Wir n Krool ni, sah sah la Wir menang. Dia kan laju je bab makan. Kroll plak ala-ala sopan santun plak. Konfem lah kalah. Ngee.


Takde adat bagi door gift kat para tetamu. Just utk keluarga sebelah je. So save gila tok sik perlu beli door gifts. Hiks.


Pukul 12, ialah dah bukak khemah. Sape dtg agak2 nak lunch tu, silalah basuh periuk je kat belakang. Hiohio.


Apa-apa pun, sangat gembira di hati kerana berjumpa sahabat-sahabat semua.
[caption id="" align="aligncenter" width="483" caption="Sweet kan diorang nih ? :)"]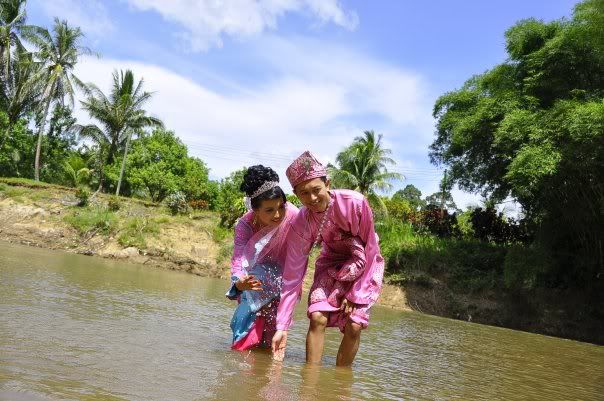 [/caption]
Herm, semoga bahagia dan berkekalan hingga akhir hayat oke!
Ohh aku tiba-tiba merindui hsemates di KL. Korang rock lah babe. (Urgh but pic without Eija)
Dan sangat merindui lelaki ini. Dah seminggu tinggalkan aku kat sini. Uwaaaah.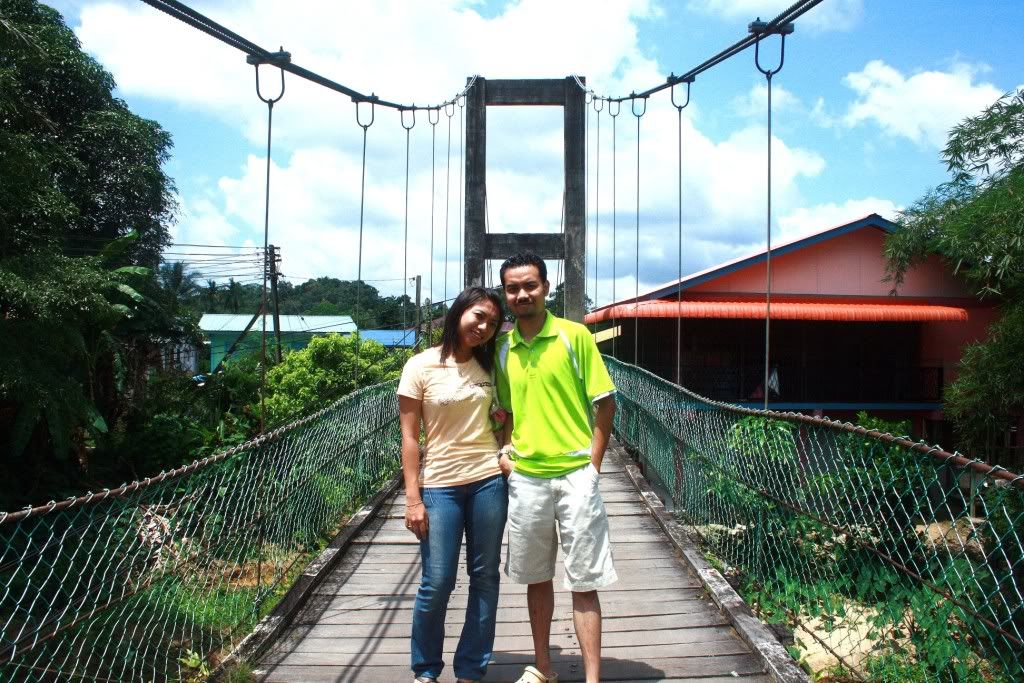 P/S Cepatlah dtg hari esok.