Selamat hari ibu Mama ! :) (and semua emak-emak keseluruhannya).
Nothing in this world could describe how much I love u mom. Thanks for every single thing you have done and there's no way I could re-pay you.
Aku selalu terasa bersalah sebab selalu tak tipon mama untuk bertanya khabar. Kadang-kadang sampai mama yang call aku sebab dia kata dia rindu. And aku pasti tersentuh pd ketika itu. Dan selalunya mama akan menangis kalau dia kata dia rindukan aku. Tulus kan hati seorang ibu?
Bila dah meningkat dewasa ni, sometimes aku lupa atau buat sambil lewa. Alasan yang selalu keluar dari mulut ni, 'Along bz '. Urgh ! So typical excuse kan. Tapi itulah hakikatnya. Oh sangat lah aku terasa bersalah. Tapi mama tak pernah komplen. Dia seakan-akan faham dengan keadaan walaupun aku tahu jauh kat sudut hati, dia sedih sebab terasa jauh dari aku.
I've been away from her sejak umur 13 tahun. Membesar di sekolah berasrama penuh, orang kata masa remaja bukan di depan mata mama. After high school, aku ke Damansara buat persediaan. So kat situ all together dah 6 tahun berjauhan dari mama.
After persediaan, aku belajar di Adelaide. Berada kat tempat org 4 tahun. Lagi lah aku jauh dari mama. Sampailah aku berjaya habiskan study, alhamdulillah. And mama datang all the way jauh-jauh sebab taknak aku sedih on my convocation day if takde family yang hadir. And I could see how happy she was sebab dia tahu aku boleh berdikari selepas itu dengan tiket ijazah yang aku dapat.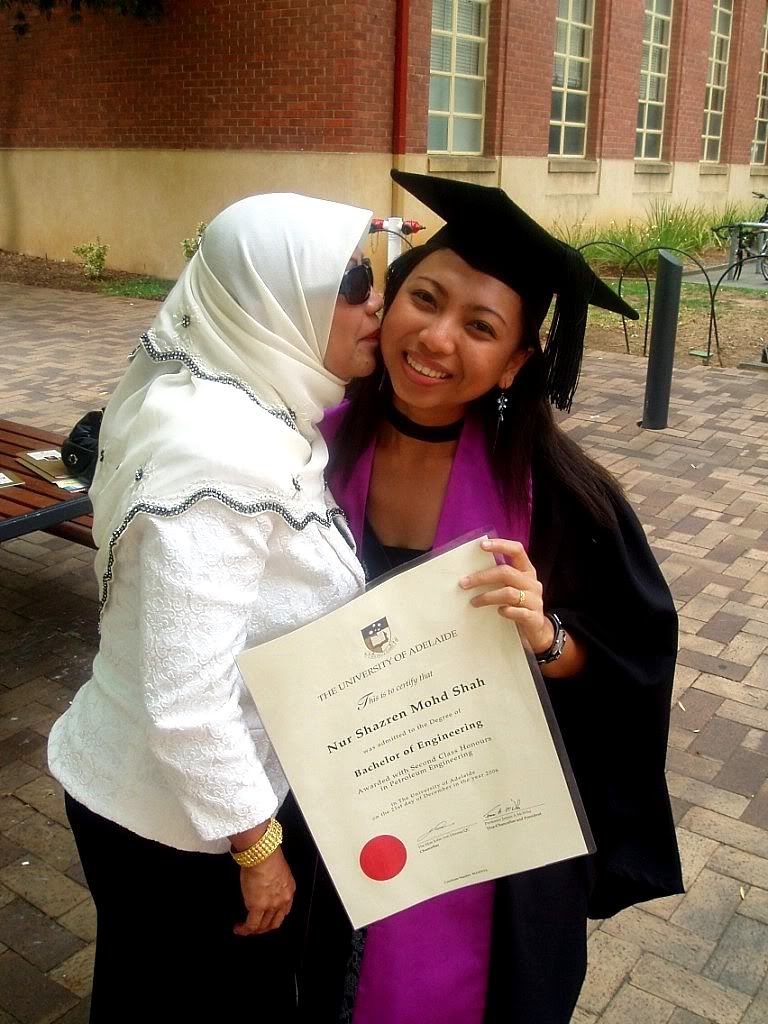 Balik ke Msia, aku terus dapat tawaran kerja. Oh tak sempat pun nak spend masa bersama mama dan family. Aku terus berhijrah ke KL dan bermulalah dunia baru di alam pekerjaan. Kehidupan semakin sibuk, terkejar sini terkejar sana. Tapi mama tak pernah komplen, sebab dia tahu aku ada komitmen pekerjaan.
Sampai lah aku membuat keputusan untuk melangkah one step further dalam kehidupan untuk mempunyai keluarga sendiri. Mama memberi sokongan dan berkenan dengan pilihan hati. Dia tak membantah walaupun dia tahu dia bakal berjauhan dengan anak perempuan tunggal yang belum puas pun kami spend masa bersama (Anyway, we still have 212 days before aku bertukar status nih, insyaAllah).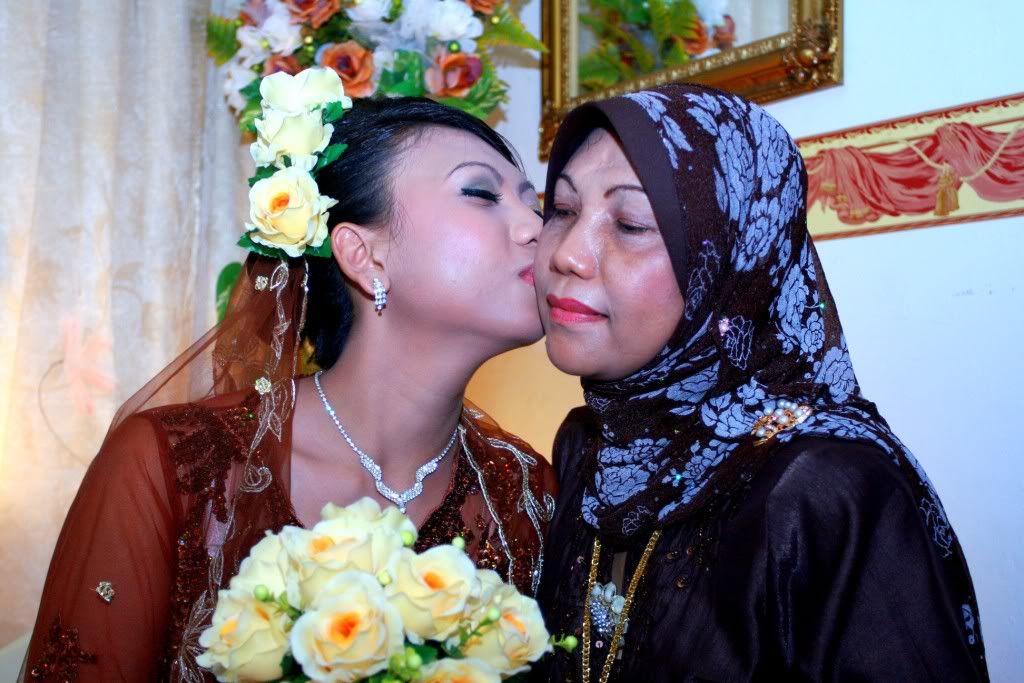 Dan sampailah aku kena tukar ke Borneo ni. Lagi sekali aku berjauhan dari mama. Aku ingat lagi, masa beritahu mama yang aku kena ke Miri, dia menangis. Sedih sebab kami bakal berjauhan lagi. Sedangkan aku di KL pun, sangat jarang aku balik JB jumpa keluarga, inikan pula kalau aku di Miri. Penat aku yakinkan dia yang aku akan selalu balik jumpa dia, dan dia finally redha sebab faham komitmen kerja. Masa tu aku rasa sangat bersalah, sebab aku gembira je dapat tukar ke sini sebab dekat dengan chenta hati. But aku tak sedar macam mana sedih nya perasaan mama masa itu.
Secara purata aku membesar betul-betul di depan mata mama sejak umur 1 hari hingga umur 12 tahun.
Banyak sangat mama berkorban utk aku selama 25 tahun ini.And sampai bila-bila pun dia akan sanggup berkorban. Aku tahu. Bila fikir-fikir, mmg takkan terbalas semua tu. Sebab tu aku sekarang mencuba sedaya upaya utk tidak menjadikan jarak sebagai pemisah kami. Macam org kata, biar jauh di mata tapi dekat di hati. Sekurang-kurangnya itu akan buat mama happy.
Sayang mama, sampai bila-bila. Muuuahh muaahhh muuaaahhh !
P/S  Walaupun mama tak baca blog, itu aku konfem 100% memang. Ngee~