And I am not one. I am just a woman with high expectations. LOL.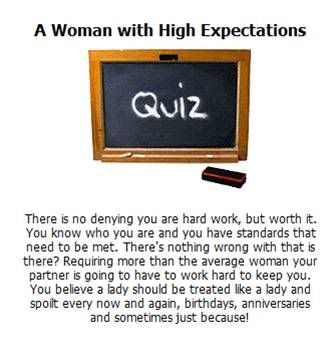 I rarely took this quiz thingy in FB. But since today is a public holiday, and as usual aku pepagi buta dah bangun pastu taktau nak buat apa. So just pop in with this yada yada thing. I suggest myself to wake up at least at 10 ke 11 ke kan. Baru rasa appreciate public holiday, but every weekend mataku akan terbeliak seperti hari weekdays. Sebelum kawen ni baik buat perangai macam tu kan. Kang dah kawen mmg kena bangun pagi, buat bfast bla bla bla-and-never-end thingy until the next day.
Oh back to the story, memang aku tak high maintenence pun (I still have a problem to spell this word out.Duhh).Ada few questions dalam quiz tu, kalau bersiap up to an hour to get ready to work; that is acceptable.Kalau siap 30mins dah macam mandi kerbau la pula hai. And lagi, i expect to be spoilt at least on special ocassions. LOL !
Dan aku juga ialah akan memberi space to partner whenever he needs his own comfy time for himself. Sometimes if he feels like having his guys out or whatever it is, I would give him space, and I would not expect him to call me every 15 mins or whatnots. Sebab when he's having his own time, then let him has it.Bila jumpa pun boleh cerita summarise semua skali kan. Hiks. Oh itu soklan quiz tu, but ada kena mengena with high expectations woman kah? Urgh.
And ada banyak lah lagi macam how do you want to be treated while going out, how you dont mind to pay bills but expect him to at least gives an offer, how you wanna suggest your partner to dress up that it suits your eyes without forcing him to follow your way, and banyak lagi lah.
Hurmm..My eyes are feeling itchy sebab I just got new contact lense. And they are the disposable ones ; ada 7 pasang oke! And I am sooo not used to them because before this I was using the permanent one. Yang disposable ni apsal lembik-lembik dan senang terlipat-lipat? Aku rasa kat dalam mata pun dia nak terlipat dan melepet. Tak yang macam permanent, they are so solid and tak penah dalam sejarah hidup aku lagi aku terkoyakkan mereka. But being the lazy me, aku gatal nak try pakai disposable because aku dah malas nak jaga yang permanet. Sebab you have to really handle it with care, kena rendam dengan protien removal, kena selalu cuci and all the craps. Haruslah aku malas nak buat suma tu and nak pakai disposable. Tetapi begini pula kesuadahannya.
Urgh tak best.
The best thing this weekend - Im going to Kuching this evening. Get to meet all kawan-kawan from KL tonight. Oh tak sabar! Kesemuanya akan berkumpul di Kuching sempena persandingan kali kedua Wir & Kahirool. ( Wir dah preggie 2 mnths for God sake. Apa org kata, bunting pelamin. Wahh hebat).
Okeh,better to get ready. Finish the laundry and the house chores supaya balik dari Kuching tade apa yang perlu dikemas. And I am on leave this Monday. Woo bliss.
Happy Labour Day y'all. Berehatlah secukupnya.