Hey I tell u what. This movie is superb. It's a must watch one! Seriously, no kidding.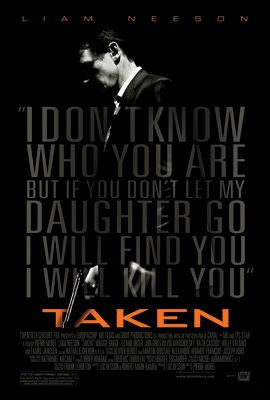 But sad to say, aku just usha DVD je cita ni. Sebab the cinema here sux big time. Org kata lah. Aku tak kata as I havent tried. Tade rasa nak try pun because org kata lagi, cinema di sini siap ada tikus lalu lalang lagi. Haa funny oke. KL ada ke babe? Hak hak. I think kalau sound system dia tu, siap boleh ada gema-gema kot. Hoh. So better dok umah layan DVD walaupun sofa tu tak berapa nak best.
Oh back to the movie, Liam Neeson stars as a super cool hero. Sgt macam rambo oke dia lawan-lawan and brilliant. Aku suka gila part dia trap org tu and cakap 'Good luck". Wooh tak terjangkau dek akal fikiran.
Hrmm u better watch urself. And I bet u would sit still till the end. Aku tesangat ponat sebab semalam baru lepas meng-treasure hunt. Habes pusing satu Miri oke and suma benda ialah lakukan. Achery, skating, nyanyi, mendayung sampan, berpusing-pusing dalam pasar, jalan batu reflexology, terjun macam BOSET, bagi buaya makan.. u name it. Suma kot kami buat. Spare that for later entry. Tak larat aku nak bercerita.
And oh, I think I got this one silent reader (or should I call u a non-invited reader? ) yang meninggalkan comment tak diingini. If you dont like what Im babbling on, and terasa macam tulisan tangan aku ni meninggalkan kesan yang kau tak suka, why bother to read?  Kenapa kau nak tahu pasal hidup aku at the first place? Kau nampak icon 'X' kat ujung atas belah kanan tuh, sila tekan sekrang and u are welcome to leave my site and please dont return.
Maaf kepada pembaca lain. Ter-emosi pula aku di sini. Aku menulis sekadar suka-suka and mengisi masa terluang. And kalau ada yang tak menyukai ke apa, talk to my face lah. Tak perlu create fake email just to say things behind my back. Like- whatever.
Okeh peeps. Esok isnin dah. Urghh malas. Tapi Jumaat cuti and we are going to Kuching. Yeay, jalan-jalan cuti-cuti sambil attend wedding orang. Happy Monday y'all. Have a great week oke!