having this little thingy. TAHU BAKAR!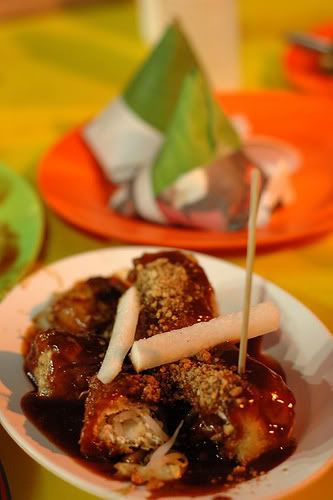 Where in Miri could I find this fella? Please please. It had been 3 weeks since I last had this yummy food. Well aku ialah memang amat addicted dengan makanan ini. And there is no freaking restaurant or even stall that sells this here. Pathetic huh. Yes I know! I've been lookign around here and there, masuk keluar each restaurant, aku wajib had a glance on the menu or cermin-cermin makanan kat restaurant itu if they happen to have it. But until now, I am not that fortunate to get it. Do you think I have to browse through the recipe and have an effort to make the tahu bakar. Ohhh aku tak reti la seyh. Celah mana nak dapat kuah rojak petis itu? And how on earth do I know to mix up all the ingredients sebab macam susah seyh nak buat kuah itu. But kalau senang macam masak lemak cili api, sila bagitahu aku.
And I just found this one bakery which sells marvellous-as-in-in-Miri pau. Remember aku suh kamu halang aku makan pau? Ternyata En MNI is not doing a good job here. Sebab aku ialah makan makan dan makan sahaja di sini. Because that is the only fun activity here. Challenging enough to get good food, and once u got it, its kinda relief. Pathetic.
Boleh la, aku suka je nak beraktiviti lasak masuk gua keluar gua, panjat gunung ke apa, but being always busy at work, En MNI kalau cuti dia lagi suka chill dan berehat-rehat tanpa memenatkan fizikal. So aku pun kena chill jugak. Unless aku tinggalkan dia chill sorang-sorang and aku ikut other frens to explore around. (Kau rasa En MNI ok ke tak if I do this? Hehee).
I was browsing around the tahu bakar recepi while typing this entry. And guess what I got?

Apa kes? This is not what i want. Ada pulak tahu bakar pakai jem bagaii. Tertekan seyh.
Apa-apalah. Malam ni ada pasar malam. Akan aku berusaha dengan gigih kalau-kalau they sell tahu bakar there.
Happy holiday. Yes aku cuti hari ni. Its a Good Friday. Dpt banyak chocolates semalam sempena easter. Have a great long weekend!