Hoh this evening I was a bit tempered with my frens (whom I mentioned always made my day in my previous entry, tapi semua ala-ala devil ok! Besabar je lah aku). Why? Because they claimed I gain so much weight  and they mocked me on my skirt . And I felt like setanlah korang, nak sumpit diorang satu per satu. Cakap aku gemuk sudah lah, tak perlu lah pusing-pusing keliling aku kan. Sengal!
Yes I gain weight. I realised that. I'd stopped gym for about a month and mmg gila lah pasti weighing scale itu meningkat. Setan lah. Why there are people who do not have to workout to maintain their figure? Uuiks I envy ok! They don't even bother on calories, fried food or having meals at 11pm.Aaahh geram.
Apa-apa pun ye Rap, Gundat dan Don, aku gemuk ke apa ke, I always curious jangan sampai aku nampak macam fashion victim. Man,that is even worse. No, stylish I am not.  But at least aku tak pakai skirt bunga-bunga match with top belang-belang. Or pants belang-belang with top belang-belang juga. Atau skirt hijau terang with striking pink top! Hoho nightmare ok! Seperti ini? What say you?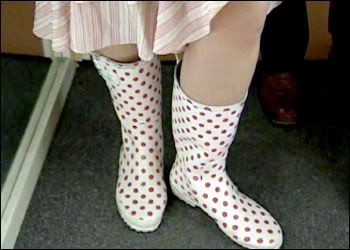 Hoh aku hari-hari pergi kerja, selalu jugak observe org. I like looking at people who are well-dressed. They look so elegant and sophisticated! And I tell you what, ada jugak weyh org pakai skirt bunga with stripes top kat tower itu. Hah u imagine lah?
Btw, yes I am fat but I can diet. I take your words as motivation ok Rap!Sengal lah kau.Huuu. And people around me, please help me to shed off these extra kgs. Silalah:


halang aku makan kerepek


halang aku makan pau kacang


halang aku makan rotiboy and butterscotch gardenia.


halang aku minum milo sampai 5 kali sehari


halang aku minum susu pekat manis spt teh tarik, nescafe tarik atau neslo.


halang aku daripada dinner selepas pukul 830pm.


motivate me to kembali ke gym at least thrice a week (yesss I'll start again in April. I miss running on the treadmill)


My target is to fit in my size 6 jeans and all my size 4 tops before our wedding. Help me ok! I cant do it alone.
And oh, I just did this quiz sebab aku bosan. Haha. I am not stylish, no I am not in stlye. The results tell me this: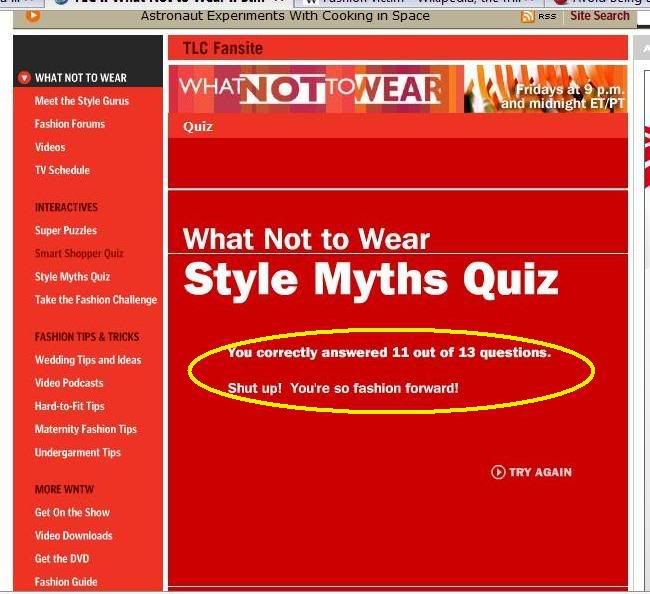 Laaalalalal~  :p
Here are some tips. Take it or leave it.


Never wear more than 2 trends together


Accessorize your outfit in a new way


Wear colors that look great on you. Not sure what those are? Grab a trusted friend and head to the mall. Hold up tons of colors next to your face and get feedback from your friend


Never wear your sunglasses indoor


Remember that celebrities often overdo trends for maximum photo impact- they may not translate well for you on a day-to-day basis.


Sudah. Sampai esok tak habes kang. Btw, aku tinggal 7 helai sepinggang sahaja baju-bajan. Yang lain suma sudah dihantar ke Miri. Memang serabai gila aku rasa this week. Hoh.
Period.