..kenyataan Sarr on Mars and Venus. But my point is different. It's how Mars and Venus react when they claim they are letting someone go.
Be it Mars or Venus.
We tend to say well..it's over and that means it is over. But people do not really walk their talk.
Percaya atau tidak, sama ada kau mengakui atau menafikan, after break up, you still stalk on your exes. Betul? What they do, what are their updates, are they going out with someone else, are they moving on atau masih gila talak and yada-yada-yada.
And once you know they are actually moving on, kau mula lah rasa geabah dan akan terasa seperti loser. Sebab you feel like how come she/he could move on, but not you? It might be because kau sangat syg dia kan, tapi dia dengan senang hati saja mencari pengganti engkau. Mana lah kau tak panas hati kan. Hoh. Tapi jauh di sudut hati tu pasti akan ada rasa yang kau juga harus mencari pengganti secepat mungkin.
Dan mulalah kau juga wajib tunjuk kehebatan kau. Come one people, sometimes it is so obvious and orang akan menganggap kau ni desperado. Macam, eh eh eh out of sudden tiba-tiba saja you are dating someone. Crap.
But if COINCIDENTALLY you really meet somebody else immediately after dapat tahu ex engkau ialah move on, then it is good for you lah kan. Heh.
Well, that is just my two cents. Tiada kena mengena dengan kisah sesiapa baik yang hidup mahu pun yang telah meninggal dunia.
Okeehh habes sudah. I went back to home sweet hometown in JB. Oh sangat happy berjumpa keluarga. At first aku taknak balik, tapi petang Sabtu itu apabila En MNI was about to balik Melaka, aku dah bergenang air mata nak kena tinggal KL sorang-sorang. Maka apa lagi, pack barang and ikut dia balik kampung lah kan. Heehe.
Mungkin ada sebab aku tiba-tiba terasa nak balik. Kerana ialah our wedding date is already set.So sekrang ini aku akan banyak membebel pasal wedding. Haaha. Bear with it and live with it. But oh ya, the date is not yet to be revealed. Cukuplah aku kata within this year but towards the end and sempatlah for us to prepare every single details properly. InsyaAllah, and do pray for us oke!
Maka haruslah aku confirmkan our theme of the day kan. I was thinking maroon+white. But it is outdated punya kaler. Based on org yang experience bab mengadam and selection of colours ni, he claimed nowadays, wedding colour mestilah millenium. Iaitu berani. Tak main lah campur putih lah bagai, kaler lembut-lembut lagi mixed with white..Itu semua tak millenium. Dia yang kata, bukan aku ok. Hehe. So I was thinking of this: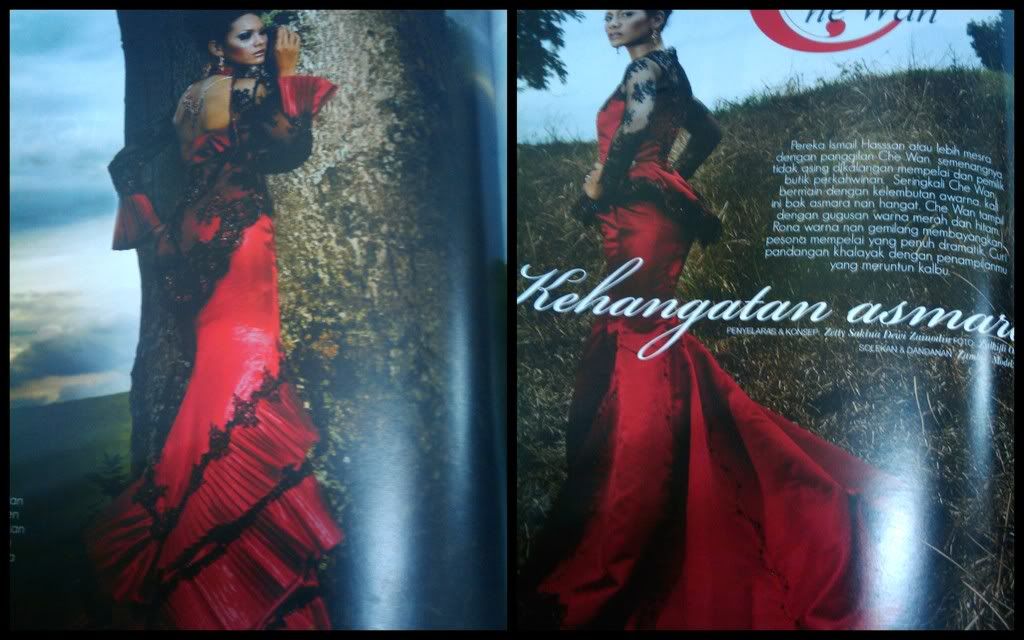 Aaaaaa sungguh aku dah jatuh chenta ni. Heading dia pun kehangatan asmara kan. Hahaa. Tolonglah aku memang sangat suka red & black. Sexy and elegant. Betul? Ehhe.
Aku kena decide on colour ni. Baru benda lain boleh gerak kan. Nak beli mak nenek yang lain kena tahu colour nya ape bukan.
Ohh, ialah excited!