Apabila hati senang, pasti ada saja unwanted things happen. Thats a norm in life lah kan.
Oh, tidak ada kena mengena dengan relationship kami iya. Kang ramai plak yang misunderstood ingatkan me n En MNI sedang porak peranda. Tidak iya. Iya lah, sebab bila becakap pasal perkara gembira, Im still dalam mood bertukar status ni kan. Heheh.
Kejadian berlaku selepas lunch, lepas aku pekana gulai lemak pucuk paku pakis, dengan tempe sambal dan jugak tauhu jepun. Nyaman gila makanan itu oke. Suddenly, I felt my eyes sepertimenjadi bebola yang besar dan bagai nak tesembul keluar. Yg heran tu, belah kiri sahaja. Maka aku tgk cermin, dan Ya Rabbi, merah gila bijik mata aku oke.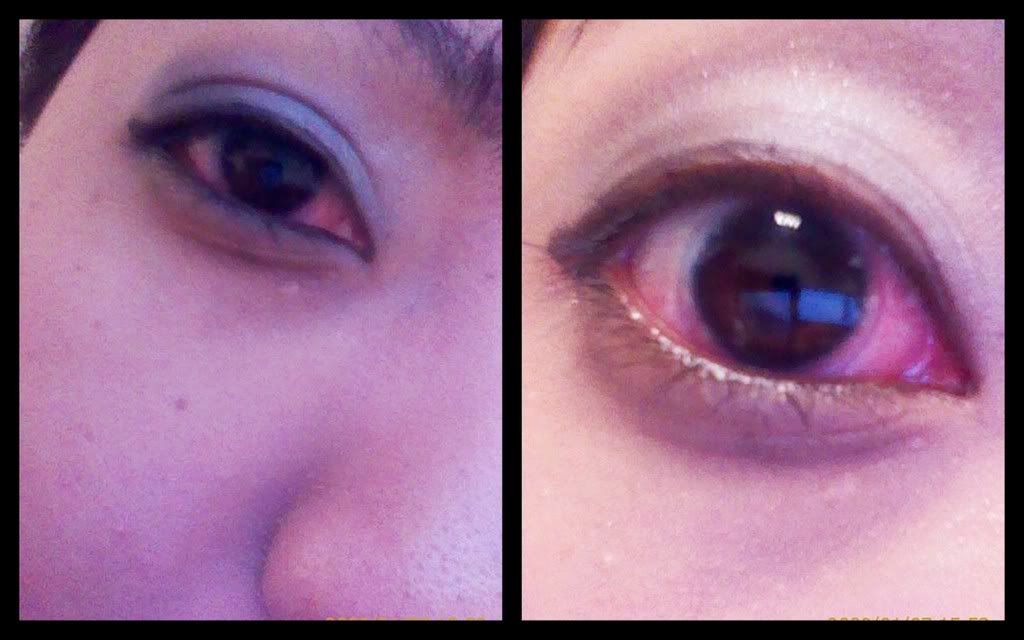 Tak caya? SUngguh, ini ialah mata aku. Me being ignorance, memang aku biarkan je la. Konon macam tade apa berlaku. Sebab I thought mungkin sebab contact lense yang kering ke apa. SO aku just cuci lense, pakai balik n sambung ngadap simulation.
Tapi makin lama makin terasa nak tejojol lah kan. And after the 7th person told me to go to the clinic, aku surrender lah. Maka aku gi clinic. Sahih, kena infection. Secara automaticnya aku MC lah esok walaupun I was a bit resistant nak MC. Kerja aku melambak oke. Dengan Pak Slamet nya this week sangat busy and tak bekerja dengan aku, dia pi wat benda lain, aku kekontang-kantingan seorangan. Lagipun mata je sakit, otak aku tak sakit kan? Ehhe. Kena marah ngan doctor oke. Sebab kang jangkit kat org lain sakit mata, abes satu PRD MC next week. Hoho. Maka haruslah aku tido sampai ptg pada hari esok.
Dah alang-alang berada di clinic, aku gatal lah tanya dotor tu kalau nak wat ujian darah thalassemia bleyh? Kalau ING tak cover, mati hidup memang takkan lah aku gi Twin Tower Medical Centre itu kan. Sebab itu kena tanya dulu ING cover ke tak. Doctor kata cover! Melompatlah aku suh dia wat blood test itu.
Terasa pening, loya-loya and nak pitam lah amik darah. Sebab tu aku takleh jadik doctor. Tapi kaler darah amat cantik kan. AKu nak kawen tema kaler merah darah. Meoww?
Oh lari topic.Biru biru lengan aku lebam. Dan amat susah nurse tu carik urat aku nak sedut darah. Ikat-ikat n balut-balut lengan pun, masih susah bejumpa urat. Isskkhh.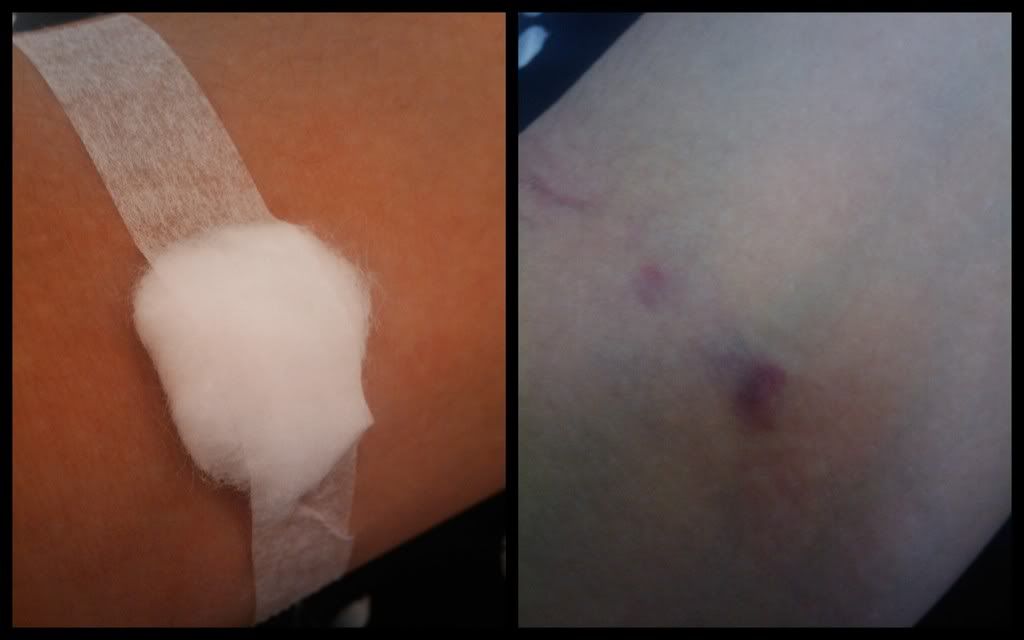 Kan lebam tuh. Saket.
Not many people are aware on this test. Ala takkan korang tak tgk iklan kat TV tu. Kalau free-free tu gi lah check. Thalassemia ni disebabkan oleh gangguan dalam pembentukan hemoglobin darah. Sebab itu kalau, pembawa kawen dengan pembawa, ada possibily anaknya nanti pembentukan hemoglobinnya tidak normal dan menyebabkan pelbagai penyakit macam anemia (anemia is one of thalassemia symptom). Tapi kalau seorang saja pembawa, the partner adalah normal, maka anak insyaAllah selamat. However, even kalau dua-dua pembawa, bukan 100% anak itu penghidap thalassemia. Just ada possibilty. Korang blaja biology kan dulu. Kan ada pasal genetik genetik nih. Ehhe.
Macam itu lah ceritanya. So it's good to know whether u r a carrier ke penghidap ke apa.
Ok, habes dah cita sakit-sakit ni. Ohh on top of the story, doctor yang check aku ptg tadi berkemungkinan besar adalah gay. Issskkhhh. Andaian aku lah kan.Ekke.
Oh lagi satu, I don't understand why sometimes people are so kepala batu dan taknak redha dengan apa yang dah ditentukanNya. They claim redha and menerima takdir lah, mendoakan dari jauh la and yada yada yada but the action does not walk the talk. Ada yang so irrational macam nak membalas ala-ala berdendam, ada yang bertindak mengikut perasaan,ada yang bermuka-muka dan menikam dari belakang, ada jugak yang dengki dan iri hati sampai taknak mendoakan kebahagiaan org lain. Sungguh aku tak faham. Kalau aku lah kan, I would be double happy for others' happiness. Sebab itu bermakna, they finally found their true meaning of life. Haih entahlah dunia.
Dah, makin sakit mata and lengan ni, makin panjang plak bebelan aku.
Toodles~