Aku rasa, sahabat-sahabat seangkatan umur dengan aku dah ramai ber-anak pinak. Tapi aku baru terkedek-kedek pegi kursus kawen. Ehhe. But at least aku ialah progressing apa. Ingat senang kah nak allocate weekend utk duduk dalam dewan seminar dengan ustaz beceramah. Haa tau takpe.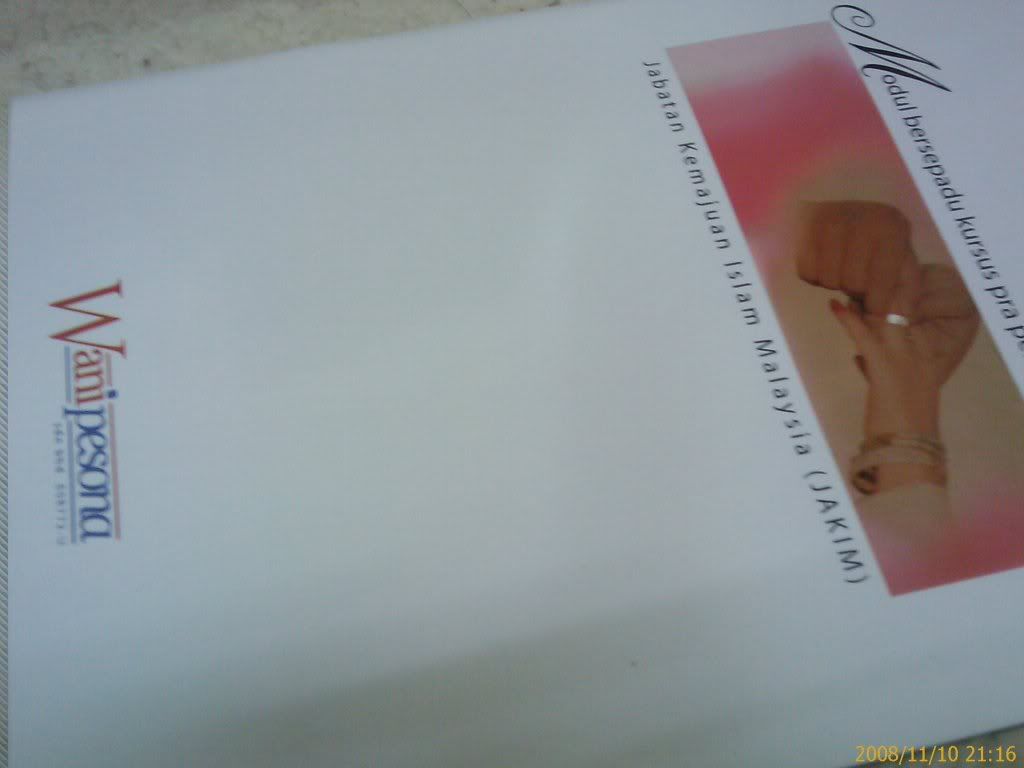 The course however was waaaayyy beyond what I'd been thinking of. Ia ialah amat best oke! Aku highly recommend lah pi kursus kat Wani Pesona ini. Kat Setiawangsa. Just SMS and bawa RM80. As easy as that. Kerana ialah?


Ustaz best sangaat. Kami rasa tak kering gusi selama satu hari setengah itu. And diorang semua adalah org-org penting dan sangat berpengalaman.


Senang parking. Melambak-lambak walaupun kena jugaklah pusing 3 kali kalau malas nak menapak. Yang penting, parking ialah free. Hekhek.


Tu je la kot. Yang paling penting of course la ada kesan dalam diri bukankah? Aku rasa ada kesan lah. Sebab ceramah tu bukannya ceramah. They told real stories bedasarkan pengalaman. Itu yang best!


Kesan lelain:


Marriage is not a burden. Its a gift from the Almighty kepada umat Nya. Maka aku rasa nak kawen dengan cepat. Terima kasih :p 


Banyaknya tanggungjawab and perkara suka duka pahit manis kelat masin dan manis yang boleh di-share besama dalam rumahtangga. But ustaz kata, tanggungjawb isteri yg wajib hanya satu sahaja. Perkara perkara lain macam masak, kemas umah, jaga anak semua adalah sunat sahaja. Kecuali kalau suami suruh, baru wajib. So kalau tak suh, jom goyang kaki tengok TV :p Ekekke.


Boleh dapat ketenangan and of course kebahagiaan bila dah berumahtangga nih. Nak pegi keja tenang, balik keja tenang dan happy sentiasa. Provided kita mencari bahagia lah. Kalau pung pang pung pang begadoh n bemasam muka hari-hari, itu tidaklah tenang. Ape lah dey?


Berterus terang, pecaya, komunikasi yg baik dan berkesan,aqidah ibadah n akhlak yg betul yada yada yada, are very important in a marriage. Kalau kau nak tenang dan bahagia lah.


Banyak lagi. Kang aku tulis semua, korang tak payah gi kusus kawen pulak. Ekekke.


Abes bab itu. Well, semalam aku qada' balik tido yang tak cukup masa weekend. Entah kenapa semalam ialah hari kemengantukan yg melampau. Aku tido lepas isya-bangun kejap midnight knonnya nak siapkan presentation pack utk technical presentation hari ini, tetapi gagal - tido semula sampai subuh. 
Bangun pagi aku macam org gila meroyan sebab satu hapah slide pun aku tak buat lagi. Aku ialah kena update my custodian, TP's and the rest of my team. It's not a tiny miny thingy oke sebab ia adalah melibatkan capability aku and aku ialah taknak org lain pandang aku macam tak hamik berat and makan gaji buta.
Maka I went to the office lepas subuh, Reached KLCC at 6.40am. Lampu KLCC pun tak pasang lagi oke. Siap aku kena call polis bangunan suh pasangkan lampu. Dan seharusnyalah aku berhempas pulas buat slide. Slide itu takdelah penting sangat aku rasa, the most important thing is the results and how deep do I understand the whole process of my job. Nak memaham itulah yang satu kehal nya lagi. Isskkhh. 
And alhamdulillah, everything went well even though aku kena bantai dengan hujahan panas panas belaka sebab aku tidak berjaya menaikkan recovery di field itu. Dah abes kot minyak kat situ, nak paksa-paksa suh kuar, memang dah tak boleh nak wat macm manaaaa? By the way, I still have another 19 working days to complete the project; which will definitely makes me menggelupur. Mati. I just memujuk coordinator utk postpone assesment aku sebab aku tak sempat nak baca buku nanti.Sebab sebok nak siapkan project ini. Alaaa takmola asessment jawab macam budak baru keluar university. At least ada lah bebuah pokok after keja 1 year and 9 months.
Alryte. Aku macam rasa nak makan org je ari ni. Mungkin sebab dah 10hb ni. Emosi tak stabil. Hermm. 
Toodles~