Morning workout

= 200 Calories on treadmill + 200 Calories on climbing machine + weights (hips, legs, abdomen & arms)





Breakfast

= 2 keping roti kaya (wholegrain oke!) + teh tarik kurang manis 1/2 cawan (aku kena minum jugak sebab ada org buatkan. Kang kecik pulak hati member kan. Ehhe)


Brunch = 1 keping roti tuna (wholegrain jugak) + air milo 1 mug


Serta merta I felt so sihat lah konon. Let's see what happen during
lunch
time.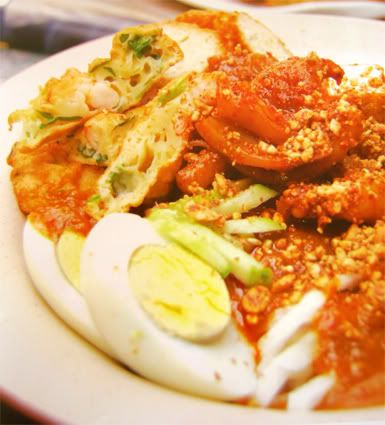 Hamik kau. Tanpa rasa bersalah aku belasah 1 pinggan besar rojak mamak oke! Besama sirap limau. Disamping pau kari ikan Wirr. Kami melantak kat Kari Kepala Ikan Kg Pandan. Boleeh?!
Tea time
: 1 mug neslo (sila lihat aku masih tak rasa bersalah..)
Dalam pukul 5.30pm, tiba-tiba rasa bersalah. Penat aku bangun pagi pegi gym pastu melantak rojak. AKu dah bejanji takmo makan rojak lagi. Kalau makan pun, aku takmo habeskan sorang-sorang. Uhhuu. Adalah mustahil mungkin :(
Maka aku pegi gym lagi ptg tadi. 


Evening workout = 100 Calories on skiing machine + 200 Calories on treadmill + 100 Calories on climbing machine + 1 hour of aero kick class (or known as body combat).


Agak-agak, habes terbakar tak rojak yg aku makan tengahari tadi?
Menggelupur dan menggelabah minggu ini. Weighing scale tu kalau dia tak menipu atau rosak, I put on weight 1 kg. Issskkhh.
P/S Semalam I felt like killing people. Hari ni best, gi aero kick class ada combine boxing, karate, and taekwondo. Disamping boleh kicking, punching, and jumping sesedap rasa, its a good exercise as it works in all part of the body (upper and lower). Better lah daripada aku makan org kan. Ehhe.