I'm discovering the reality. Don't worry, be happy (Hah gila ayat masa darjah 4. Dont worry be happy. Hak hak).
Well, even I have hell lotsa unwanted uninvited benda benda yang suka hati invaded to my mind, life must go on bukankah? And work is still work. Job still needs to be done. They never understand if you have other painful thingy to be thought of. And you are killing urselves dengan robekan melampau if u claim that as a reason. So unprofessional they would say.
And guess what,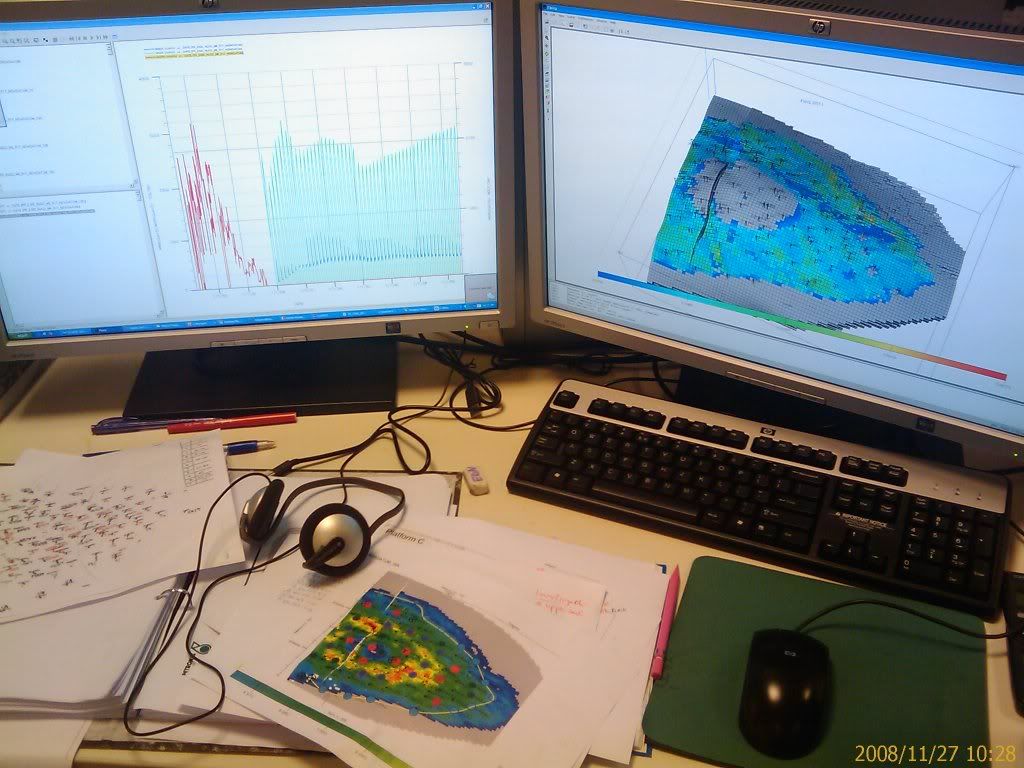 Inilah rupa public workstation tempat beta bekerja. Not my private cubicle oke! Ohh tidaklah seharusnya cubicle aku besepah macam sarang tikus ini. Read that again, that's the public workstation but I declare it as mine. Sebab memang kalau aku dah dok situ, bermakna di situlah kehidupan aku. Super computer tu anda tahukah? With two screens oke. Hohoho.
I live with simulation and kerja aku ialah mencuba dan terus mencuba kononnya ialah boleh dikeluarkan dari perut bumi kesemua minyak itu. Kalau tak boleh keluar, I would be forced to still suck the oil out. Nak taknak, kena jugak. Kena..kena..kena! So kadang-kadang aku maen hentam keromo sahaja. Cucuk wells sana sini. Provided kau boleh justify, selamatlah.Hukhuk.
Ada pulak masa aku amik gamba bagaii di simulation room? Sebab aku tinggal sorang pagi tadi. Mana semua org hilang ntahlah. Pak Slamet yang selalunya ialah penghuni tetap sebelah aku dari pukul 8am-7pm pun tiada hari ini. Ohh dia saja buat keja sampai pukul 7pm, aku sekarang semakin efficient, pukul 5pm on the dot aku dah macam cacing kepanasan. Seharusnya aku tidak rela balik lambat dah sekarang. Remember prinsip aku, work is a never ending story. Whoaa. Esok-esok sambung.
Oh I have another azam. Iaitu minum air sekurang-kurangnya 700mL air kosong sehari. Iyaa aku tau its not enuff, tapi itu je yg aku mampu mungkin. Satu hari, habeskan 1 botol ni. Cuukuuplaah. Untuk bukan peminum air kosong seperti aku. It's an achievement oke!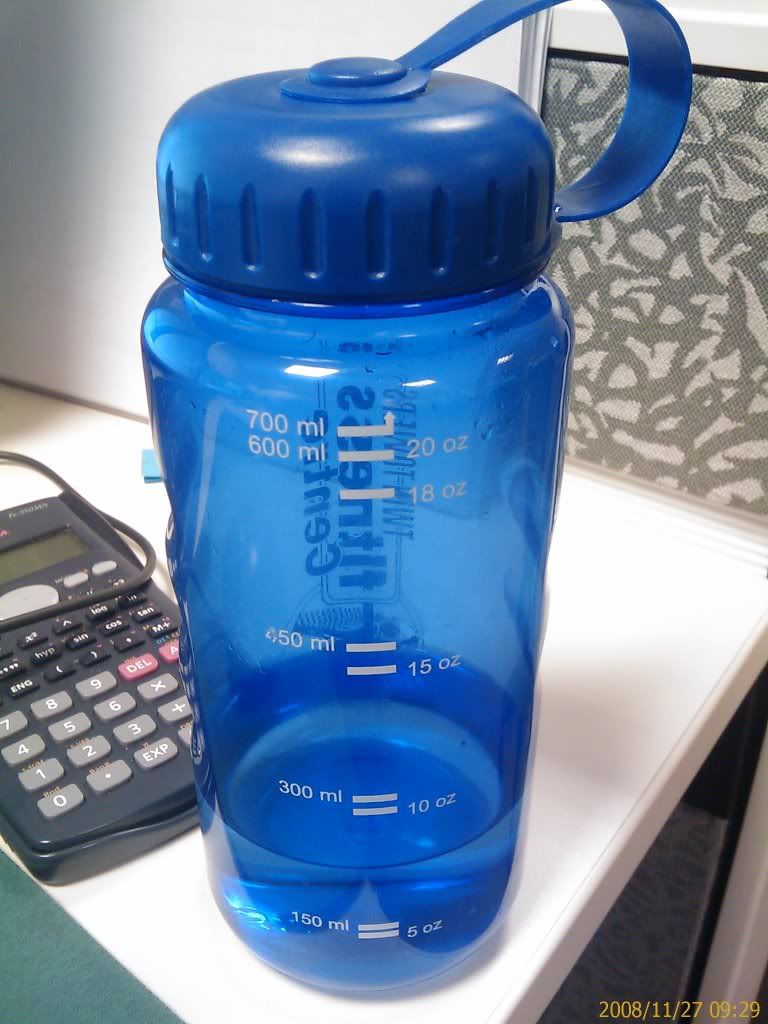 Tengoklah, baru pukul 9.27am, dah tinggal sikit itu tau. Lalalala~
Selingan: we should see empty bottle as half full, NOT half empty. This is how we see things from different perspective in a very positive way. Ohhoo semalam ada org mengingatkan aku tentang perkara ini.
Sudah..Thank God esok Friday! Objective hari esok ialah apply cuti utk menghabeskan saki baki cuti yang ada.
Past sentence 1: Nampak sangat aku sengal gila bekerja pada hari ini. Hey it's towards December. Sememangnya malas~
Past sentence 2: Apa ialah kena mengena tajuk entry dengan body entry ini? Ohh tiada apa. Aku tgh tgk berita. Kemudian TV tgh membebel cuaca cuaca serata dunia. Terkeluar Johannesberg. I'm testing myself on my spelling skill. Hak hak.