And the time finally comes..Macam baru sangat sangat I saw her sparkling eyes tanda kegembiraan yg amat hebat she made a statement 'babes, im getting married~!'.. Really, macam baru je semalam dia bagitahu kami. Tsk tsk. Tapi hakikatnya itu ialah 8 bulan yang lalu.
Aku nak cakap how time flies very fast. Now that she's leaving us for her new journey. Tak pecaya? Kami lagi macam tak pecaya. Huu~
Today ialah boleh diconsider her last day as our hsemate. Maka ialah harus berlepakan besama men-cherish masa-masa yg ada.
We were full, perut sudah sempit. Maka we decided to lepak sahaja, not having big meals la. So went off to Chawan di Bangsar. Cosy juga this place plus environment di sana tidaklah berhiruk-pikuk dengan kebisingan melampau.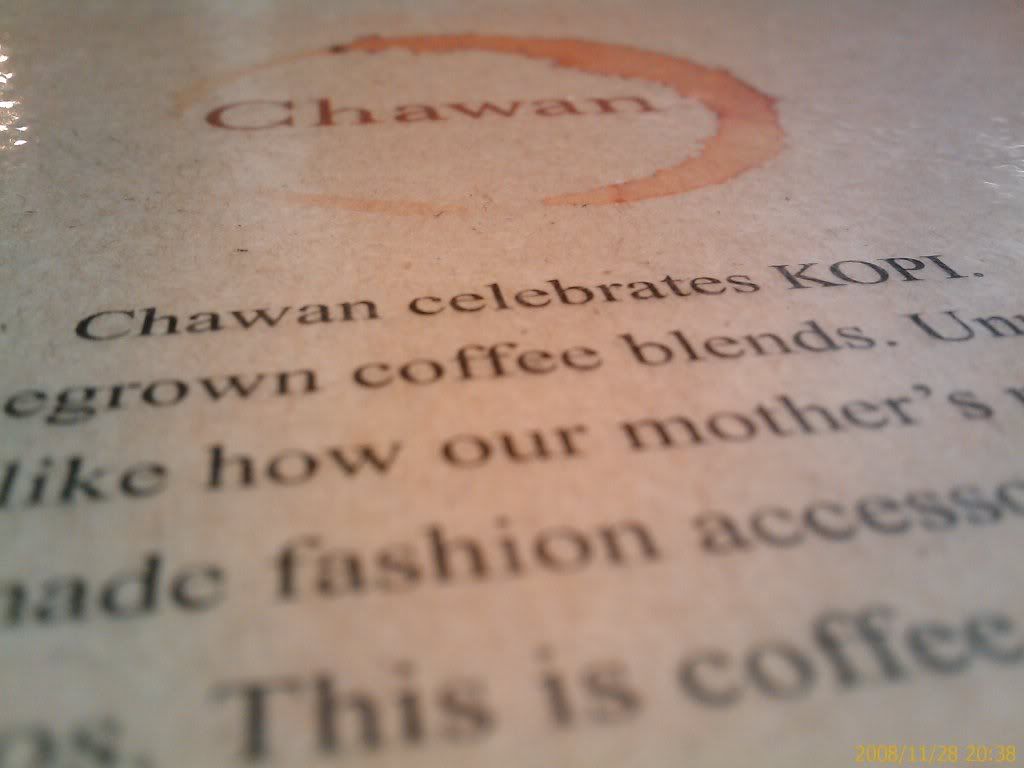 We talked, we laughed, we mengumpat, we begossip. Dan akhirnya kami melantak juga akhirnya. Padahal we are hsemates yang sangat tengah berdiet lah kononnya. Can u imagine 3 stooges wake up 5.45am every single day, and berjalan naik LRT pada pukul 6.10am heading to the gym. Lihat kami hsemates sangat self concious dan extreme juga tau. Harus org lain kata kami saiiko. 
And oh lagi satu perkara tentang rumah kami, roti puih telah diharamkan untk menjejak melangkah grill masuk ke dalam rumah. Sebab kami setuju yg roti putih ialah jahat dan meggemokkan. Saiiko bukan? Hik hik.
Akan tetapi..lihatlah apa kami melantak hari ini. Ooh hari takpe, segala diet miet ialah harus diruin-kan. Esok kami sambung healthy food oke ! *fingercrossed*
Laksa asam kat sini nyaman sangat oke! Mcm nak nangis sebab sedap. Ehhe. Curry laksa but sedap. Tahu dia bulat bulat besar dan mcm span. Yummylicious~  And ohh cham nya pun layan tau. Aku ni kan peminum coffee dan cham yg hebat, Haruslah tahu menilai. Laalalala~
Anyways Syahrul, we gonna miss u a lot. U've been a great fren and hsemate ever. Habeslah siapa nak tolong aku buatkan milo malam-malam nanti apabila dia tiada. Nak kawenn dah kawan aku tuh. Btw, congratulations darling. You know u rock kan.
Esok weekend. Haruslah sangat suka.
P/S Temasuk wiken ini, da 2 weekend tak jumpa En MNI :( *aku merinduimu ding dong ding dong..wink wink. iklan ni dah tade oke)