Why is this thing happening again eh? Everyone is talking about it. Everyone feels the storm and thunder on this period of economic contraction. And it freaks us out. Darn recession~ Hari itu bedentam dentum pasal crude oil was rocketing like whhooo. And sekarang begini pulak. It's a negative economic growth tahu? Oohh takut! During this period of downturn, barulah tahu cash in hands is KING. To those who are well prepared, then u are lucky blokes. Won't be dramatically affected. Tetapi kepada makhluk yang cashless macam aku ini, tak kasihankah? Nak meneruskan kehidupan dengan peellbaagaii plan di kepala otak, yang tak tahu macam mana nak direalisasikan.
Org kata, if this happens like really really happen (aku macam taknak pecaya it's happening bolehh? ), cara paling simple ialah learn to live less than ur income. How? Lu pikirlah sendiri. Kenalah trim your budget as much as possible. Lagi? The last resot mungkin ialah by compromising on your lifestyle. Ohh besediakah engkau nak reduce your lifestyle drastically. Hemmph. Tak boleh itu, tak boleh ini,yada yada yada..
Aku taktau lah its beyond control ke hape ke. Malas nak fikir. Period.
Another thing that drag my  mind restless, that now only i realise how difficult to please everyone, especially those importants and loved ones. It's like freaking susah oke. Kau kata macam ini, sini kata oke tapi sana berkecil hati. Bila sana oke, sini pula berkecil hati. Macam kau rasa kalau nak please suma orang, kau kena sumpit diri sendiri mungkin. Haa macam itulah aku rasa. Kalau sumpit tak mencukupi, mungkin kena tembak kah. Ni exegerate saja to express macam mana menggelupur nye perasaan seperti itu.
Tapi the fact that aku sangat sayang orang-orang tertentu di sekeliling aku, I will try the best out of me to please mereka semua. Be it menyusahkan aku sekali pun. Itu perangai aku sejak dalam perut mama lagi kot. Waahh. Tak hairanlah kan, aku ni kadang-kadang org kata bodo kalau sanggup sacrifise itu dan ini. Kononnya lah. AKu tak rasa susah and treat it a a sacrifise pun, but other people see it as a burden. I never care. Dont worrylah. Kalau dah sayang tu, org kata lautan api sanggup diredah. Lagi lah aku ni,kalau syg, memang syg tahap diva oke. Bagus ke tidak itu sebenarnya. Hak hak. Apply to all oke especially family dan En MNI. Dan juga tidak lupa sahabats-sahabats yang aku rasa patut diapply lah.
Tuhan maafkan diri ini
Yang tak pernah bisa menjauh dari angan tentangnya
Namun apalah daya ini
Bila ternyata sesungguhnya aku terlalu cinta dia..
Now u can puke ur belly out la babe. Ada aku kesah? Memang im the sentimentalatheart-type-of person. Tengkiu.
Well, I am looking forward to watch this.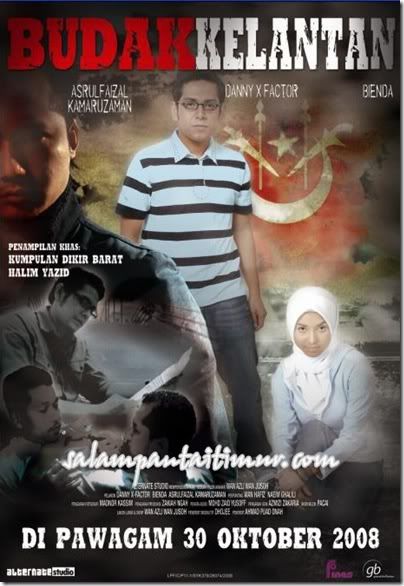 Walaupun aku ada sket allergic ngan bahasa kelantan (no offense yaaa). Sebab aku tak paham bukannya apa. Tapi aku teruja nak jugak tgk cerita ini. Sungguh esok aku gi tengok.