You are Unique, You are MAGNIFIQUE~
Oohhh Im so in lurve with this fragrance! It's the latest by LANCOME.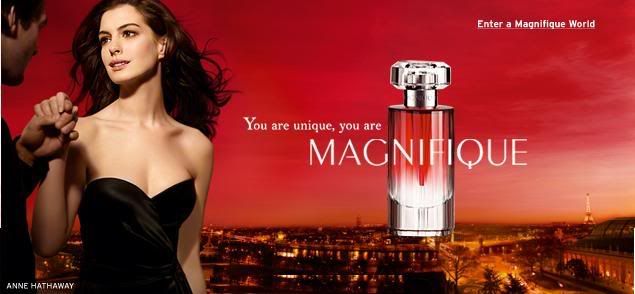 Dah la the spokeperson is Anne Hathway. I lloooiikkkee. Dia adalah sangat chantek~ Dah la merah + hitam. Aiyyoo chanteekk.
By the way, selalunya I'll go for soft and romance fragrance, but the MAGNIFIQUE is somehow smells so different and aku sudah jatuh chenta dengannya.
It's a combination of three; spicy, floral and woody. The perfect combo makes it a very sexy smell. Ehhe.
The Eau de Parfum unveils the floral, fruity, powdery and amber notes of MAGNIFIQUE. Its bottle, with its luxurious design, nestles in the hand, like a precious treasure. Its luminous fragrance gives a refined and radiant aura to the woman who wears it.
A fragrance of emotion is in the air...
MAGNIFIQUE.
Hah dah macam buat iklan dah aku. Hooooh. Aku tgh berfikir-fikir nak leburkan RM300 for the MAGNIFIQUE or not. Yes No Yes No? But it's a combo of 50ml EDP, lipgloss, eyeshadow, make up base and 1 session of photo shot complete with make up and hair do. Yes No Yes No.? But aku baru je lebur my bucks on Miracle So Magic and J'Dore. Yes No Yes No? Undecided.
Plan weekend ini:
Memandangkan Encik MNI adalah tidak balik pada minggu ini, aku kenelah spend masa dgn org lain.
Sabtu: Wedding Josey, Akikah Ila's new born baby, Balik JB jumpa keluarga betaaa.
Ahad: Bawak mama abah n amil gi shopping baju raya, Gi tempah baju.
Isnin : Beta ialah cuti. Hoho. Gi uruskan all documents di bank, Ptg akan begerak pulang ke KL.
Sgn off.